Radio 1920 has assembled a large selection of Broadcast Equipment for immediate shipment from the vast inventory at Amazon.  Radio 1920 also provides service assistance over the phone for all items purchased from this website.
Best Earbuds
These are the Best Earbuds I have ever owned, for the price. 
GOgroove Durable Heavy Duty Earbuds (Green) - Ergonomic In-Ear Earphones w/ Rugged Cable, Microphone, & On Board Controls - Noise Isolation & Reinforced Metal Driver Housing. I always have a pair in my pocket. Perfect for Remotes, Testing, or just use them on your phone.
Best Phone Stand for Facebook Live
Perfect, inexpensive phone holder for Facebook Live Broadcasts.
IPhone XLR Adapter
This is an inexpensive XLR phone adapter for Luci or Facebook Live Broadcasts. You may need some additional accessories. like a Line Pad, or Extension Cable. Click here for those items.
Streaming & Luci Lite Live Computer
This is a perfect little computer for Streaming to Securenetsystems.net for your live streaming. I also use it for remotes using Luci Live Lite and Luci Live. The price is right and the reliability it the BEST!
Samsung SSD 500 GB USB
This is our choice
Superfast Read-Write speeds of up to 540 MB/s

Top to bottom metal design that fits in the palm of your hand

Optional password protection and AES 256-bit hardware encryption

Includes USB Type C to C and USB Type C to A cables

3-year warranty
Live Streaming, Call Us!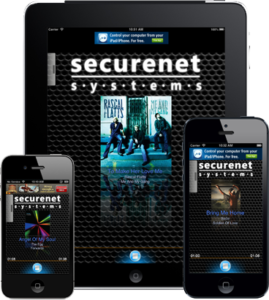 Please contact us for live streaming services. We work exclusively with Securenet Systems.  There is no charge for us assisting you in setting up your stream if you purchase your streaming through us. We will also assist in building your Player and Apps, no charge.
Broadcast Board for under $1,200.00
This is the BEST, least expensive board that is a real Broadcast Console.
 (2) Mix-Minus pots, (4) Stereo pots, (4) Microphone pots. All inputs are either XLR or TRS. Yes, it will start auxiliary and warning lights.  Allen & Heath builds long lasting, reliable products.  
Click here to see all the Broadcast Items we recommend from Amazon
Frequently Asked Questions
Ron Crider and his associates have been with us every step of the way since we started. They did our entire operating including Transmitter Plant and Studio Facility. His company actually operates our station 24/7 from their facilities.
WJPP Stuart Florida, Ed Daccarett 
We are another station Ron Crider's team built totally from the ground up in 2015. Crider's team operates our station 24/7 from from their facilities.
WPBV Palm Beach, Florida. Richard Venezia.
Ron Crider and his company built and rebuilt all our radio stations in Colorado and Indiana over the past 16 years.  It has been a wonderful experience working with him. 
Randy Hood Pilgrim Communications
Text us today at 1-772-913-2209 or email roncrider@gmail.com
No job is too big or too small.